{"id":7978607811,"title":"ProForm Tour De France Studio Bike Pro","handle":"tour-de-france","description":"\u003cdiv id=\"shortDesc\"\u003e\n\u003cmeta charset=\"utf-8\"\u003e\n\u003ch3\u003e\u003ciframe width=\"560\" height=\"315\" src=\"https:\/\/www.youtube.com\/embed\/nFnwD6kQwa8\" frameborder=\"0\" allow=\"accelerometer; autoplay; encrypted-media; gyroscope; picture-in-picture\" allowfullscreen=\"\"\u003e\u003c\/iframe\u003e\u003c\/h3\u003e\n\u003ch3\u003e\u003c\/h3\u003e\n\u003ch3\u003eA Highly Effective, Low Impact Workout\u003c\/h3\u003e\n\u003cp\u003eGet fit on your own time with an indoor cycle that pushes you to be your best. Change gears and feel the natural resistance of the world's hills and valleys from inside your home.\u003c\/p\u003e\n\u003cmeta charset=\"utf-8\"\u003e\n\u003ch3\u003eExpert Personal Trainers in Your Living Room\u003c\/h3\u003e\n\u003cp\u003eEngage in a whole new workout experience as certified personal trainers take your exercise all around the world. iFit® Coach gives you continued motivation with unlimited access to streaming global and studio workouts, all led by a coach.\u003c\/p\u003e\n\u003c\/div\u003e\n\u003cdiv id=\"bullets\"\u003e\n\u003cmeta charset=\"utf-8\"\u003e\n\u003cdiv class=\"icons-block\"\u003e\n\u003ch3\u003eInteractive Training Sessions\u003c\/h3\u003e\n\u003cp\u003eiFit personal trainers move your transformation forward by interacting with and controlling your smart equipment.\u003c\/p\u003e\n\u003c\/div\u003e\n\u003cdiv class=\"icons-block\"\u003e\n\u003cbr\u003e\n\u003ch3\u003eStreaming Global and Studio Class Workouts\u003c\/h3\u003e\n\u003cp\u003eSee the world while you work out or push through a studio class, all while being led by a personal trainer in your home.\u003c\/p\u003e\n\u003c\/div\u003e\n\u003cdiv class=\"icons-block\"\u003e \n\u003ch3\u003ePersonalized Nutrition\u003c\/h3\u003e\n\u003cp\u003eGet a personalized meal plan automatically created for your fitness goals and follow along with easy video recipes.\u003c\/p\u003e\n\u003c\/div\u003e\n\u003cdiv class=\"icons-block\"\u003e \n\u003ch3\u003eConnected\u003cspan\u003e \u003c\/span\u003e\u003cnobr\u003e\u003ca id=\"PXLINK_1_0_1\" class=\"pxInta\" href=\"https:\/\/www.proform.com\/studio-bikes\/studio-bike-pro?gclid=EAIaIQobChMI2YqC4YvV3gIVph6tBh0jKgQQEAYYASABEgL51PD_BwE#\"\u003eTracking\u003c\/a\u003e\u003c\/nobr\u003e\n\u003c\/h3\u003e\n\u003cp\u003eCheck your progress as every workout is automatically recorded and even used to influence future exercises and nutrition plans\u003c\/p\u003e\n\u003c\/div\u003e\n\u003c\/div\u003e\n\u003cdiv id=\"technology-specs\" class=\"spec-series\"\u003e\n\u003cp\u003eFeel the hills throughout your ride. The Studio Bike Pro features a unique 20% incline to 20% decline capability that gives you the experience of a realistic, real-road feeling. As you cycle with iFit® Coach, your trainer automatically inclines or declines your bike to match the grade of the workout. Make your training more intense and burn more calories by cycling at an incline.\u003c\/p\u003e\n\u003cmeta charset=\"utf-8\"\u003e\n\u003ch3\u003eSilence Never Sounded So Good\u003c\/h3\u003e\n\u003cp\u003eExperience a smooth, frictionless, and silent ride with our patented SMR™ Silent Magnetic Resistance, which allows you to adjust your training intensity without interrupting your workout or anyone around you.\u003c\/p\u003e\n\u003ch3\u003eTechnology\u003cspan class=\"right expand\"\u003eExpand All\u003c\/span\u003e\n\u003c\/h3\u003e\n\u003cdiv class=\"clearfix spec-row\"\u003e\n\u003cdiv class=\"title-cell left\"\u003e\n\u003cdiv class=\"right\"\u003e\n\u003cp itemprop=\"additionalProperty\" class=\"cell-name tar\"\u003eiFit\u003c\/p\u003e\n\u003c\/div\u003e\n\u003c\/div\u003e\n\u003cdiv class=\"cell-description right\"\u003e\n\u003cp class=\"description-title\"\u003e\u003cspan\u003eiFit® Coach Enabled*\u003c\/span\u003e\u003c\/p\u003e\n\u003c\/div\u003e\n\u003c\/div\u003e\n\u003cdiv class=\"clearfix spec-row\"\u003e\n\u003cdiv class=\"title-cell left\"\u003e\n\u003cdiv class=\"right\"\u003e\n\u003cp itemprop=\"additionalProperty\" class=\"cell-name tar\"\u003eDisplay\u003c\/p\u003e\n\u003c\/div\u003e\n\u003c\/div\u003e\n\u003cdiv class=\"cell-description right\"\u003e\n\u003cp class=\"description-title\"\u003e\u003cspan\u003e10" Smart HD Touchscreen Display\u003c\/span\u003e\u003c\/p\u003e\n\u003c\/div\u003e\n\u003c\/div\u003e\n\u003cdiv class=\"clearfix spec-row\"\u003e\n\u003cdiv class=\"title-cell left\"\u003e\n\u003cdiv class=\"right\"\u003e\n\u003cp itemprop=\"additionalProperty\" class=\"cell-name tar\"\u003eOn-Board Workouts\u003c\/p\u003e\n\u003c\/div\u003e\n\u003c\/div\u003e\n\u003cdiv class=\"cell-description right\"\u003e\n\u003cp class=\"description-title\"\u003e\u003cspan\u003e24 Tour de France Workouts\u003c\/span\u003e\u003c\/p\u003e\n\u003c\/div\u003e\n\u003c\/div\u003e\n\u003cdiv class=\"clearfix spec-row\"\u003e\n\u003cdiv class=\"title-cell left\"\u003e\n\u003cdiv class=\"right\"\u003e\n\u003cp itemprop=\"additionalProperty\" class=\"cell-name tar\"\u003eHeart Rate\u003c\/p\u003e\n\u003c\/div\u003e\n\u003c\/div\u003e\n\u003cdiv class=\"cell-description right\"\u003e\n\u003cp class=\"description-title\"\u003e\u003cspan\u003eEKG Bluetooth® Compatible Heart Rate Receiver*\u003c\/span\u003e\u003c\/p\u003e\n\u003c\/div\u003e\n\u003c\/div\u003e\n\u003c\/div\u003e\n\u003cdiv id=\"engineering-specs\" class=\"spec-series\"\u003e\n\u003cmeta charset=\"utf-8\"\u003e\n\u003ch3\u003eComplete Customizability\u003c\/h3\u003e\n\u003cp\u003ePut yourself into position for the best chance at success. The Studio Bike Pro is both adjustable and modifiable for a perfectly fitted training experience. Make this bike your very own with total customizability.\u003c\/p\u003e\n\u003cp\u003e\u003cb class=\"pt20 block\"\u003eHandlebars\u003c\/b\u003e\u003c\/p\u003e\n\u003cul\u003e\n\u003cli\u003e10.5" Adjustable Stack (Vertical)\u003c\/li\u003e\n\u003cli\u003e3.5" Adjustable Reach (Horizontal)\u003c\/li\u003e\n\u003cli\u003eRotation for Comfortable Upright or Aggressive Drop Position\u003c\/li\u003e\n\u003c\/ul\u003e\n\u003cp\u003e\u003cb class=\"pt20 block\"\u003eSaddle\u003c\/b\u003e\u003c\/p\u003e\n\u003cul\u003e\n\u003cli\u003e13" Adjustable Stack (Vertical)\u003c\/li\u003e\n\u003cli\u003e4" Adjustable Reach (Horizontal)\u003c\/li\u003e\n\u003cli\u003eInterchangeable\u003c\/li\u003e\n\u003c\/ul\u003e\n\u003cp\u003e\u003cb class=\"pt20 block\"\u003ePedals\u003c\/b\u003e\u003c\/p\u003e\n\u003cul\u003e\n\u003cli\u003eOptional Toe Cages\u003c\/li\u003e\n\u003cli\u003eOptional Clip-Ins\u003c\/li\u003e\n\u003cli\u003eInterchangeable\u003c\/li\u003e\n\u003c\/ul\u003e\n\u003cdiv class=\"spec-vertical-line clearfix\"\u003e\n\u003cmeta charset=\"utf-8\"\u003e\n\u003cimg src=\"https:\/\/res.cloudinary.com\/iconcdn\/image\/upload\/v1\/proform.com\/cdn\/images\/catalog\/PFEX01418_D1_1.gif\" alt=\"\"\u003e\u003cspan\u003e\u003c\/span\u003e\n\u003ch3\u003eA Pivotal Moment For Your Fitness\u003c\/h3\u003e\n\u003cp class=\"mod-d-copy\"\u003eStay entertained when you want to get off the bike to do some cross-training. The Studio Bike Pro features a Pivot Screen with SmartSwivel™ Design so you can turn the screen 180°, as well as tilt up or down, so you can continue watching your entertainment, even when you're training off the saddle.\u003c\/p\u003e\n\u003cp class=\"mod-d-copy\"\u003e \u003c\/p\u003e\n\u003cmeta charset=\"utf-8\"\u003e\n\u003cp class=\"mod-d-copy\"\u003e\u003cimg src=\"https:\/\/res.cloudinary.com\/iconcdn\/image\/upload\/v1\/proform.com\/cdn\/images\/catalog\/PFEX01418_D1_2.jpg\" alt=\"\"\u003e\u003cspan\u003e\u003c\/span\u003e\u003c\/p\u003e\n\u003ch3\u003eThrow in Some Upper-Body Strength\u003c\/h3\u003e\n\u003cp class=\"mod-d-copy-right\"\u003ePrepare yourself for a full-body training session. This bike isn't only about toning your legs. Two 3-pound dumbbells are included with the Studio Bike Pro to give you the opportunity to bring upper-body exercises to your workout. When you're finished, put them back into the conveniently attached dumbbell holders.\u003c\/p\u003e\n\u003c\/div\u003e\n\u003cdiv class=\"clearfix spec-row\"\u003e\n\u003cdiv class=\"title-cell left\"\u003e\n\u003cdiv class=\"right\"\u003e\n\u003cp itemprop=\"additionalProperty\" class=\"cell-name tar\"\u003eFrame\u003c\/p\u003e\n\u003c\/div\u003e\n\u003c\/div\u003e\n\u003cdiv class=\"cell-description right\"\u003e\n\u003cp class=\"description-title\"\u003e\u003cspan\u003eUpright Frame with Commercial-Gauge Solid Steel Construction\u003c\/span\u003e\u003c\/p\u003e\n\u003c\/div\u003e\n\u003c\/div\u003e\n\u003cdiv class=\"clearfix spec-row\"\u003e\n\u003cdiv class=\"title-cell left\"\u003e\n\u003cdiv class=\"right\"\u003e\n\u003cp itemprop=\"additionalProperty\" class=\"cell-name tar\"\u003eResistance\u003c\/p\u003e\n\u003c\/div\u003e\n\u003c\/div\u003e\n\u003cdiv class=\"cell-description right\"\u003e\n\u003cp class=\"description-title\"\u003e\u003cspan\u003e26 Digital Resistance Levels\u003c\/span\u003e\u003c\/p\u003e\n\u003c\/div\u003e\n\u003c\/div\u003e\n\u003cdiv class=\"clearfix spec-row\"\u003e\n\u003cdiv class=\"title-cell left\"\u003e\n\u003cdiv class=\"right\"\u003e\n\u003cp itemprop=\"additionalProperty\" class=\"cell-name tar\"\u003eIncline\/Decline\u003c\/p\u003e\n\u003c\/div\u003e\n\u003c\/div\u003e\n\u003cdiv class=\"cell-description right\"\u003e\n\u003cp class=\"description-title\"\u003e\u003cspan\u003e20% Incline and 20% Decline Capability\u003c\/span\u003e\u003c\/p\u003e\n\u003c\/div\u003e\n\u003c\/div\u003e\n\u003cdiv class=\"clearfix spec-row\"\u003e\n\u003cdiv class=\"title-cell left\"\u003e\n\u003cdiv class=\"right\"\u003e\n\u003cp itemprop=\"additionalProperty\" class=\"cell-name tar\"\u003eSeat\u003c\/p\u003e\n\u003c\/div\u003e\n\u003c\/div\u003e\n\u003cdiv class=\"cell-description right\"\u003e\n\u003cp class=\"description-title\"\u003e\u003cspan\u003eErgonomic, Padded Seat\u003c\/span\u003e\u003c\/p\u003e\n\u003c\/div\u003e\n\u003c\/div\u003e\n\u003cdiv class=\"clearfix spec-row\"\u003e\n\u003cdiv class=\"title-cell left\"\u003e\n\u003cdiv class=\"right\"\u003e\n\u003cp itemprop=\"additionalProperty\" class=\"cell-name tar\"\u003eHandlebars\u003c\/p\u003e\n\u003c\/div\u003e\n\u003c\/div\u003e\n\u003cdiv class=\"cell-description right\"\u003e\n\u003cp class=\"description-title\"\u003e\u003cspan\u003eMulti-Position, Adjustable Handlebars\u003c\/span\u003e\u003c\/p\u003e\n\u003c\/div\u003e\n\u003c\/div\u003e\n\u003cdiv class=\"clearfix spec-row\"\u003e\n\u003cdiv class=\"title-cell left\"\u003e\n\u003cdiv class=\"right\"\u003e\n\u003cp itemprop=\"additionalProperty\" class=\"cell-name tar\"\u003ePedals\u003c\/p\u003e\n\u003c\/div\u003e\n\u003c\/div\u003e\n\u003cdiv class=\"cell-description right\"\u003e\n\u003cp class=\"description-title\"\u003e\u003cspan\u003eToe Cage and Clip-In Pedals\u003c\/span\u003e\u003c\/p\u003e\n\u003c\/div\u003e\n\u003c\/div\u003e\n\u003cdiv class=\"clearfix spec-row\"\u003e\n\u003cdiv class=\"title-cell left\"\u003e\n\u003cdiv class=\"right\"\u003e\n\u003cp itemprop=\"additionalProperty\" class=\"cell-name tar\"\u003eFlywheel\u003c\/p\u003e\n\u003c\/div\u003e\n\u003c\/div\u003e\n\u003cdiv class=\"cell-description right\"\u003e\n\u003cp class=\"description-title\"\u003e\u003cspan\u003eInertia-Enhanced Flywheel\u003c\/span\u003e\u003c\/p\u003e\n\u003c\/div\u003e\n\u003c\/div\u003e\n\u003c\/div\u003e\n\u003cdiv id=\"comfort-specs\" class=\"spec-series\"\u003e\n\u003ch3\u003eComfort\u003c\/h3\u003e\n\u003cdiv class=\"spec-vertical-line clearfix\"\u003eCoolAire™ Fan\u003c\/div\u003e\n\u003cdiv class=\"spec-vertical-line clearfix\"\u003e\u003c\/div\u003e\n\u003cdiv class=\"clearfix spec-row\"\u003e\n\u003cdiv class=\"title-cell left\"\u003e\n\u003cdiv class=\"right\"\u003e\n\u003cp itemprop=\"additionalProperty\" class=\"cell-name tar\"\u003eTablet Holder\u003c\/p\u003e\n\u003c\/div\u003e\n\u003c\/div\u003e\n\u003cdiv class=\"cell-description right\"\u003e\n\u003cp class=\"description-title\"\u003e\u003cspan\u003eIntegrated Tablet Holder with DeVice Grip™ Design\u003c\/span\u003e\u003c\/p\u003e\n\u003c\/div\u003e\n\u003c\/div\u003e\n\u003cdiv class=\"clearfix spec-row\"\u003e\n\u003cdiv class=\"title-cell left\"\u003e\n\u003cdiv class=\"right\"\u003e\n\u003cp itemprop=\"additionalProperty\" class=\"cell-name tar\"\u003e\u003cstrong\u003eAudio\u003c\/strong\u003e\u003c\/p\u003e\n\u003c\/div\u003e\n\u003c\/div\u003e\n\u003cdiv class=\"cell-description right\"\u003e\n\u003cp class=\"description-title\"\u003e\u003cspan\u003eAudio Auxiliary Port\u003c\/span\u003e\u003c\/p\u003e\n\u003c\/div\u003e\n\u003c\/div\u003e\n\u003cdiv class=\"clearfix spec-row\"\u003e\n\u003cdiv class=\"cell-description right\"\u003e\n\u003cp class=\"description-title\"\u003e\u003cspan\u003eWater Bottle Holder\u003c\/span\u003e\u003c\/p\u003e\n\u003c\/div\u003e\n\u003c\/div\u003e\n\u003cdiv class=\"clearfix spec-row\"\u003e\n\u003cdiv class=\"title-cell left\"\u003e\n\u003cdiv class=\"right\"\u003e\n\u003cp itemprop=\"additionalProperty\" class=\"cell-name tar\"\u003eTransport Wheels\u003c\/p\u003e\n\u003c\/div\u003e\n\u003c\/div\u003e\n\u003cdiv class=\"cell-description right\"\u003e\n\u003cp class=\"description-title\"\u003e\u003cspan\u003eFront-Mounted Transport Wheels\u003c\/span\u003e\u003c\/p\u003e\n\u003c\/div\u003e\n\u003c\/div\u003e\n\u003cdiv class=\"clearfix spec-row\"\u003e\n\u003cdiv class=\"title-cell left\"\u003e\n\u003cdiv class=\"right\"\u003e\n\u003cp itemprop=\"additionalProperty\" class=\"cell-name tar\"\u003eLeveling Feet\u003c\/p\u003e\n\u003c\/div\u003e\n\u003c\/div\u003e\n\u003cdiv class=\"cell-description right\"\u003e\n\u003cp class=\"description-title\"\u003e\u003cspan\u003eAdjustable Leveling Feet\u003c\/span\u003e\u003c\/p\u003e\n\u003c\/div\u003e\n\u003c\/div\u003e\n\u003c\/div\u003e\n\u003cdiv id=\"additional-specs\" class=\"spec-series\"\u003e\n\u003ch3\u003eAdditional\u003c\/h3\u003e\n\u003cdiv class=\"spec-vertical-line clearfix\"\u003e\u003c\/div\u003e\n\u003cdiv class=\"clearfix spec-row\"\u003e\n\u003cdiv class=\"title-cell left\"\u003e\n\u003cdiv class=\"right\"\u003e\n\u003cp itemprop=\"additionalProperty\" class=\"cell-name tar\"\u003eUpper-Body\u003c\/p\u003e\n\u003c\/div\u003e\n\u003c\/div\u003e\n\u003cdiv class=\"cell-description right\"\u003e\n\u003cp class=\"description-title\"\u003e\u003cspan\u003eDual 3 Lb. Dumbbells\u003c\/span\u003e\u003c\/p\u003e\n\u003c\/div\u003e\n\u003c\/div\u003e\n\u003cdiv class=\"clearfix spec-row\"\u003e\n\u003cdiv class=\"title-cell left\"\u003e\n\u003cdiv class=\"right\"\u003e\n\u003cp itemprop=\"additionalProperty\" class=\"cell-name tar\"\u003eWeight Capacity\u003c\/p\u003e\n\u003c\/div\u003e\n\u003c\/div\u003e\n\u003cdiv class=\"cell-description right\"\u003e\n\u003cp class=\"description-title\"\u003e\u003cspan\u003e350 Lb. Weight Capacity\u003c\/span\u003e\u003c\/p\u003e\n\u003c\/div\u003e\n\u003c\/div\u003e\n\u003cdiv class=\"clearfix spec-row\"\u003e\n\u003cdiv class=\"title-cell left\"\u003e\n\u003cdiv class=\"right\"\u003e\n\u003cp itemprop=\"additionalProperty\" class=\"cell-name tar\"\u003eWarranty\u003c\/p\u003e\n\u003c\/div\u003e\n\u003c\/div\u003e\n\u003cdiv class=\"cell-description right\"\u003e\n\u003cp class=\"description-title\"\u003e\u003cspan\u003eLifetime Frame, 3-Year Parts, 1-Year Labor Warranty\u003c\/span\u003e\u003c\/p\u003e\n\u003c\/div\u003e\n\u003c\/div\u003e\n\u003cdiv class=\"clearfix spec-row\"\u003e\n\u003cdiv class=\"title-cell left\"\u003e\n\u003cdiv class=\"right\"\u003e\n\u003cp itemprop=\"additionalProperty\" class=\"cell-name tar\"\u003eFootprint\u003c\/p\u003e\n\u003c\/div\u003e\n\u003c\/div\u003e\n\u003cdiv class=\"cell-description right\"\u003e\n\u003cp class=\"description-title\"\u003e\u003cspan\u003e25" Width x 64.75" Depth x 59" Height\u003c\/span\u003e\u003c\/p\u003e\n\u003c\/div\u003e\n\u003c\/div\u003e\n\u003c\/div\u003e\n\u003cp\u003e\u003cbr\u003eWhy buy from us?\u003cbr\u003ehttps:\/\/www.fitnessequipmentbroker.com\/pages\/about-us\u003c\/p\u003e\n\u003ctable\u003e\n\u003ctbody\u003e\n\u003ctr\u003e\n\u003ctd\u003eUphill or Downhill, Let the Road Decid\u003c\/td\u003e\n\u003c\/tr\u003e\n\u003c\/tbody\u003e\n\u003c\/table\u003e","published_at":"2016-08-14T11:07:00-07:00","created_at":"2016-08-14T11:07:21-07:00","vendor":"Fitness Equipment Broker","type":"Upright Bike","tags":["Bike","ProForm","Spin Bike","Upright Bike"],"price":164900,"price_min":164900,"price_max":164900,"available":true,"price_varies":false,"compare_at_price":299900,"compare_at_price_min":299900,"compare_at_price_max":299900,"compare_at_price_varies":false,"variants":[{"id":20031637487713,"title":"Default Title","option1":"Default Title","option2":null,"option3":null,"sku":"","requires_shipping":true,"taxable":true,"featured_image":null,"available":true,"name":"ProForm Tour De France Studio Bike Pro","public_title":null,"options":["Default Title"],"price":164900,"weight":0,"compare_at_price":299900,"inventory_quantity":5,"inventory_management":"shopify","inventory_policy":"deny","barcode":""}],"images":["\/\/cdn.shopify.com\/s\/files\/1\/1146\/0154\/products\/PFEX01418_gallery_1-69481.jpg?v=1559864455","\/\/cdn.shopify.com\/s\/files\/1\/1146\/0154\/products\/PFEX01418_gallery_3.jpg?v=1559864455","\/\/cdn.shopify.com\/s\/files\/1\/1146\/0154\/products\/PFEX01418_C2.jpg?v=1559864455","\/\/cdn.shopify.com\/s\/files\/1\/1146\/0154\/products\/PFEX01418_gallery_5.jpg?v=1559864455","\/\/cdn.shopify.com\/s\/files\/1\/1146\/0154\/products\/PFEX01418_F2.jpg?v=1559864455","\/\/cdn.shopify.com\/s\/files\/1\/1146\/0154\/products\/PFEX01418_gallery_4.jpg?v=1559864455","\/\/cdn.shopify.com\/s\/files\/1\/1146\/0154\/products\/PFEX01418_F1.jpg?v=1559864455"],"featured_image":"\/\/cdn.shopify.com\/s\/files\/1\/1146\/0154\/products\/PFEX01418_gallery_1-69481.jpg?v=1559864455","options":["Title"],"media":[{"alt":"ProForm Tour De France Studio Bike Pro - Fitness Equipment Broker | Fitness Equipment Broker - commercial recumbent exercise bike, pre owned exercise bike, professional spin bike","id":81367957601,"position":1,"preview_image":{"aspect_ratio":1.041,"height":1210,"width":1260,"src":"https:\/\/cdn.shopify.com\/s\/files\/1\/1146\/0154\/products\/PFEX01418_gallery_1-69481.jpg?v=1568768721"},"aspect_ratio":1.041,"height":1210,"media_type":"image","src":"https:\/\/cdn.shopify.com\/s\/files\/1\/1146\/0154\/products\/PFEX01418_gallery_1-69481.jpg?v=1568768721","width":1260},{"alt":"ProForm Tour De France Studio Bike Pro - Fitness Equipment Broker | Fitness Equipment Broker - commercial recumbent exercise bikes, pre owned exercise bikes, professional spin bikes","id":81367990369,"position":2,"preview_image":{"aspect_ratio":1.041,"height":1210,"width":1260,"src":"https:\/\/cdn.shopify.com\/s\/files\/1\/1146\/0154\/products\/PFEX01418_gallery_3.jpg?v=1568768721"},"aspect_ratio":1.041,"height":1210,"media_type":"image","src":"https:\/\/cdn.shopify.com\/s\/files\/1\/1146\/0154\/products\/PFEX01418_gallery_3.jpg?v=1568768721","width":1260},{"alt":"ProForm Tour De France Studio Bike Pro - Fitness Equipment Broker | Fitness Equipment Broker - best indoor exercise bikes, used recumbent bike, gym exercise bike","id":81368023137,"position":3,"preview_image":{"aspect_ratio":1.425,"height":1078,"width":1536,"src":"https:\/\/cdn.shopify.com\/s\/files\/1\/1146\/0154\/products\/PFEX01418_C2.jpg?v=1568768721"},"aspect_ratio":1.425,"height":1078,"media_type":"image","src":"https:\/\/cdn.shopify.com\/s\/files\/1\/1146\/0154\/products\/PFEX01418_C2.jpg?v=1568768721","width":1536},{"alt":"ProForm Tour De France Studio Bike Pro - Fitness Equipment Broker | Fitness Equipment Broker - best indoor exercise bikes, used recumbent bike, gym exercise bike","id":81368055905,"position":4,"preview_image":{"aspect_ratio":1.041,"height":1210,"width":1260,"src":"https:\/\/cdn.shopify.com\/s\/files\/1\/1146\/0154\/products\/PFEX01418_gallery_5.jpg?v=1568768721"},"aspect_ratio":1.041,"height":1210,"media_type":"image","src":"https:\/\/cdn.shopify.com\/s\/files\/1\/1146\/0154\/products\/PFEX01418_gallery_5.jpg?v=1568768721","width":1260},{"alt":"ProForm Tour De France Studio Bike Pro - Fitness Equipment Broker | Fitness Equipment Broker - best indoor exercise bikes, used recumbent bike, gym exercise bike","id":81368088673,"position":5,"preview_image":{"aspect_ratio":0.9,"height":1440,"width":1296,"src":"https:\/\/cdn.shopify.com\/s\/files\/1\/1146\/0154\/products\/PFEX01418_F2.jpg?v=1568768721"},"aspect_ratio":0.9,"height":1440,"media_type":"image","src":"https:\/\/cdn.shopify.com\/s\/files\/1\/1146\/0154\/products\/PFEX01418_F2.jpg?v=1568768721","width":1296},{"alt":"ProForm Tour De France Studio Bike Pro - Fitness Equipment Broker | Fitness Equipment Broker - best indoor exercise bikes, used recumbent bike, gym exercise bike","id":81368121441,"position":6,"preview_image":{"aspect_ratio":1.041,"height":1210,"width":1260,"src":"https:\/\/cdn.shopify.com\/s\/files\/1\/1146\/0154\/products\/PFEX01418_gallery_4.jpg?v=1568768721"},"aspect_ratio":1.041,"height":1210,"media_type":"image","src":"https:\/\/cdn.shopify.com\/s\/files\/1\/1146\/0154\/products\/PFEX01418_gallery_4.jpg?v=1568768721","width":1260},{"alt":"ProForm Tour De France Studio Bike Pro - Fitness Equipment Broker | Fitness Equipment Broker - best indoor exercise bikes, used recumbent bike, gym exercise bike","id":81368154209,"position":7,"preview_image":{"aspect_ratio":0.84,"height":1542,"width":1296,"src":"https:\/\/cdn.shopify.com\/s\/files\/1\/1146\/0154\/products\/PFEX01418_F1.jpg?v=1568768721"},"aspect_ratio":0.84,"height":1542,"media_type":"image","src":"https:\/\/cdn.shopify.com\/s\/files\/1\/1146\/0154\/products\/PFEX01418_F1.jpg?v=1568768721","width":1296}],"content":"\u003cdiv id=\"shortDesc\"\u003e\n\u003cmeta charset=\"utf-8\"\u003e\n\u003ch3\u003e\u003ciframe width=\"560\" height=\"315\" src=\"https:\/\/www.youtube.com\/embed\/nFnwD6kQwa8\" frameborder=\"0\" allow=\"accelerometer; autoplay; encrypted-media; gyroscope; picture-in-picture\" allowfullscreen=\"\"\u003e\u003c\/iframe\u003e\u003c\/h3\u003e\n\u003ch3\u003e\u003c\/h3\u003e\n\u003ch3\u003eA Highly Effective, Low Impact Workout\u003c\/h3\u003e\n\u003cp\u003eGet fit on your own time with an indoor cycle that pushes you to be your best. Change gears and feel the natural resistance of the world's hills and valleys from inside your home.\u003c\/p\u003e\n\u003cmeta charset=\"utf-8\"\u003e\n\u003ch3\u003eExpert Personal Trainers in Your Living Room\u003c\/h3\u003e\n\u003cp\u003eEngage in a whole new workout experience as certified personal trainers take your exercise all around the world. iFit® Coach gives you continued motivation with unlimited access to streaming global and studio workouts, all led by a coach.\u003c\/p\u003e\n\u003c\/div\u003e\n\u003cdiv id=\"bullets\"\u003e\n\u003cmeta charset=\"utf-8\"\u003e\n\u003cdiv class=\"icons-block\"\u003e\n\u003ch3\u003eInteractive Training Sessions\u003c\/h3\u003e\n\u003cp\u003eiFit personal trainers move your transformation forward by interacting with and controlling your smart equipment.\u003c\/p\u003e\n\u003c\/div\u003e\n\u003cdiv class=\"icons-block\"\u003e\n\u003cbr\u003e\n\u003ch3\u003eStreaming Global and Studio Class Workouts\u003c\/h3\u003e\n\u003cp\u003eSee the world while you work out or push through a studio class, all while being led by a personal trainer in your home.\u003c\/p\u003e\n\u003c\/div\u003e\n\u003cdiv class=\"icons-block\"\u003e \n\u003ch3\u003ePersonalized Nutrition\u003c\/h3\u003e\n\u003cp\u003eGet a personalized meal plan automatically created for your fitness goals and follow along with easy video recipes.\u003c\/p\u003e\n\u003c\/div\u003e\n\u003cdiv class=\"icons-block\"\u003e \n\u003ch3\u003eConnected\u003cspan\u003e \u003c\/span\u003e\u003cnobr\u003e\u003ca id=\"PXLINK_1_0_1\" class=\"pxInta\" href=\"https:\/\/www.proform.com\/studio-bikes\/studio-bike-pro?gclid=EAIaIQobChMI2YqC4YvV3gIVph6tBh0jKgQQEAYYASABEgL51PD_BwE#\"\u003eTracking\u003c\/a\u003e\u003c\/nobr\u003e\n\u003c\/h3\u003e\n\u003cp\u003eCheck your progress as every workout is automatically recorded and even used to influence future exercises and nutrition plans\u003c\/p\u003e\n\u003c\/div\u003e\n\u003c\/div\u003e\n\u003cdiv id=\"technology-specs\" class=\"spec-series\"\u003e\n\u003cp\u003eFeel the hills throughout your ride. The Studio Bike Pro features a unique 20% incline to 20% decline capability that gives you the experience of a realistic, real-road feeling. As you cycle with iFit® Coach, your trainer automatically inclines or declines your bike to match the grade of the workout. Make your training more intense and burn more calories by cycling at an incline.\u003c\/p\u003e\n\u003cmeta charset=\"utf-8\"\u003e\n\u003ch3\u003eSilence Never Sounded So Good\u003c\/h3\u003e\n\u003cp\u003eExperience a smooth, frictionless, and silent ride with our patented SMR™ Silent Magnetic Resistance, which allows you to adjust your training intensity without interrupting your workout or anyone around you.\u003c\/p\u003e\n\u003ch3\u003eTechnology\u003cspan class=\"right expand\"\u003eExpand All\u003c\/span\u003e\n\u003c\/h3\u003e\n\u003cdiv class=\"clearfix spec-row\"\u003e\n\u003cdiv class=\"title-cell left\"\u003e\n\u003cdiv class=\"right\"\u003e\n\u003cp itemprop=\"additionalProperty\" class=\"cell-name tar\"\u003eiFit\u003c\/p\u003e\n\u003c\/div\u003e\n\u003c\/div\u003e\n\u003cdiv class=\"cell-description right\"\u003e\n\u003cp class=\"description-title\"\u003e\u003cspan\u003eiFit® Coach Enabled*\u003c\/span\u003e\u003c\/p\u003e\n\u003c\/div\u003e\n\u003c\/div\u003e\n\u003cdiv class=\"clearfix spec-row\"\u003e\n\u003cdiv class=\"title-cell left\"\u003e\n\u003cdiv class=\"right\"\u003e\n\u003cp itemprop=\"additionalProperty\" class=\"cell-name tar\"\u003eDisplay\u003c\/p\u003e\n\u003c\/div\u003e\n\u003c\/div\u003e\n\u003cdiv class=\"cell-description right\"\u003e\n\u003cp class=\"description-title\"\u003e\u003cspan\u003e10" Smart HD Touchscreen Display\u003c\/span\u003e\u003c\/p\u003e\n\u003c\/div\u003e\n\u003c\/div\u003e\n\u003cdiv class=\"clearfix spec-row\"\u003e\n\u003cdiv class=\"title-cell left\"\u003e\n\u003cdiv class=\"right\"\u003e\n\u003cp itemprop=\"additionalProperty\" class=\"cell-name tar\"\u003eOn-Board Workouts\u003c\/p\u003e\n\u003c\/div\u003e\n\u003c\/div\u003e\n\u003cdiv class=\"cell-description right\"\u003e\n\u003cp class=\"description-title\"\u003e\u003cspan\u003e24 Tour de France Workouts\u003c\/span\u003e\u003c\/p\u003e\n\u003c\/div\u003e\n\u003c\/div\u003e\n\u003cdiv class=\"clearfix spec-row\"\u003e\n\u003cdiv class=\"title-cell left\"\u003e\n\u003cdiv class=\"right\"\u003e\n\u003cp itemprop=\"additionalProperty\" class=\"cell-name tar\"\u003eHeart Rate\u003c\/p\u003e\n\u003c\/div\u003e\n\u003c\/div\u003e\n\u003cdiv class=\"cell-description right\"\u003e\n\u003cp class=\"description-title\"\u003e\u003cspan\u003eEKG Bluetooth® Compatible Heart Rate Receiver*\u003c\/span\u003e\u003c\/p\u003e\n\u003c\/div\u003e\n\u003c\/div\u003e\n\u003c\/div\u003e\n\u003cdiv id=\"engineering-specs\" class=\"spec-series\"\u003e\n\u003cmeta charset=\"utf-8\"\u003e\n\u003ch3\u003eComplete Customizability\u003c\/h3\u003e\n\u003cp\u003ePut yourself into position for the best chance at success. The Studio Bike Pro is both adjustable and modifiable for a perfectly fitted training experience. Make this bike your very own with total customizability.\u003c\/p\u003e\n\u003cp\u003e\u003cb class=\"pt20 block\"\u003eHandlebars\u003c\/b\u003e\u003c\/p\u003e\n\u003cul\u003e\n\u003cli\u003e10.5" Adjustable Stack (Vertical)\u003c\/li\u003e\n\u003cli\u003e3.5" Adjustable Reach (Horizontal)\u003c\/li\u003e\n\u003cli\u003eRotation for Comfortable Upright or Aggressive Drop Position\u003c\/li\u003e\n\u003c\/ul\u003e\n\u003cp\u003e\u003cb class=\"pt20 block\"\u003eSaddle\u003c\/b\u003e\u003c\/p\u003e\n\u003cul\u003e\n\u003cli\u003e13" Adjustable Stack (Vertical)\u003c\/li\u003e\n\u003cli\u003e4" Adjustable Reach (Horizontal)\u003c\/li\u003e\n\u003cli\u003eInterchangeable\u003c\/li\u003e\n\u003c\/ul\u003e\n\u003cp\u003e\u003cb class=\"pt20 block\"\u003ePedals\u003c\/b\u003e\u003c\/p\u003e\n\u003cul\u003e\n\u003cli\u003eOptional Toe Cages\u003c\/li\u003e\n\u003cli\u003eOptional Clip-Ins\u003c\/li\u003e\n\u003cli\u003eInterchangeable\u003c\/li\u003e\n\u003c\/ul\u003e\n\u003cdiv class=\"spec-vertical-line clearfix\"\u003e\n\u003cmeta charset=\"utf-8\"\u003e\n\u003cimg src=\"https:\/\/res.cloudinary.com\/iconcdn\/image\/upload\/v1\/proform.com\/cdn\/images\/catalog\/PFEX01418_D1_1.gif\" alt=\"\"\u003e\u003cspan\u003e\u003c\/span\u003e\n\u003ch3\u003eA Pivotal Moment For Your Fitness\u003c\/h3\u003e\n\u003cp class=\"mod-d-copy\"\u003eStay entertained when you want to get off the bike to do some cross-training. The Studio Bike Pro features a Pivot Screen with SmartSwivel™ Design so you can turn the screen 180°, as well as tilt up or down, so you can continue watching your entertainment, even when you're training off the saddle.\u003c\/p\u003e\n\u003cp class=\"mod-d-copy\"\u003e \u003c\/p\u003e\n\u003cmeta charset=\"utf-8\"\u003e\n\u003cp class=\"mod-d-copy\"\u003e\u003cimg src=\"https:\/\/res.cloudinary.com\/iconcdn\/image\/upload\/v1\/proform.com\/cdn\/images\/catalog\/PFEX01418_D1_2.jpg\" alt=\"\"\u003e\u003cspan\u003e\u003c\/span\u003e\u003c\/p\u003e\n\u003ch3\u003eThrow in Some Upper-Body Strength\u003c\/h3\u003e\n\u003cp class=\"mod-d-copy-right\"\u003ePrepare yourself for a full-body training session. This bike isn't only about toning your legs. Two 3-pound dumbbells are included with the Studio Bike Pro to give you the opportunity to bring upper-body exercises to your workout. When you're finished, put them back into the conveniently attached dumbbell holders.\u003c\/p\u003e\n\u003c\/div\u003e\n\u003cdiv class=\"clearfix spec-row\"\u003e\n\u003cdiv class=\"title-cell left\"\u003e\n\u003cdiv class=\"right\"\u003e\n\u003cp itemprop=\"additionalProperty\" class=\"cell-name tar\"\u003eFrame\u003c\/p\u003e\n\u003c\/div\u003e\n\u003c\/div\u003e\n\u003cdiv class=\"cell-description right\"\u003e\n\u003cp class=\"description-title\"\u003e\u003cspan\u003eUpright Frame with Commercial-Gauge Solid Steel Construction\u003c\/span\u003e\u003c\/p\u003e\n\u003c\/div\u003e\n\u003c\/div\u003e\n\u003cdiv class=\"clearfix spec-row\"\u003e\n\u003cdiv class=\"title-cell left\"\u003e\n\u003cdiv class=\"right\"\u003e\n\u003cp itemprop=\"additionalProperty\" class=\"cell-name tar\"\u003eResistance\u003c\/p\u003e\n\u003c\/div\u003e\n\u003c\/div\u003e\n\u003cdiv class=\"cell-description right\"\u003e\n\u003cp class=\"description-title\"\u003e\u003cspan\u003e26 Digital Resistance Levels\u003c\/span\u003e\u003c\/p\u003e\n\u003c\/div\u003e\n\u003c\/div\u003e\n\u003cdiv class=\"clearfix spec-row\"\u003e\n\u003cdiv class=\"title-cell left\"\u003e\n\u003cdiv class=\"right\"\u003e\n\u003cp itemprop=\"additionalProperty\" class=\"cell-name tar\"\u003eIncline\/Decline\u003c\/p\u003e\n\u003c\/div\u003e\n\u003c\/div\u003e\n\u003cdiv class=\"cell-description right\"\u003e\n\u003cp class=\"description-title\"\u003e\u003cspan\u003e20% Incline and 20% Decline Capability\u003c\/span\u003e\u003c\/p\u003e\n\u003c\/div\u003e\n\u003c\/div\u003e\n\u003cdiv class=\"clearfix spec-row\"\u003e\n\u003cdiv class=\"title-cell left\"\u003e\n\u003cdiv class=\"right\"\u003e\n\u003cp itemprop=\"additionalProperty\" class=\"cell-name tar\"\u003eSeat\u003c\/p\u003e\n\u003c\/div\u003e\n\u003c\/div\u003e\n\u003cdiv class=\"cell-description right\"\u003e\n\u003cp class=\"description-title\"\u003e\u003cspan\u003eErgonomic, Padded Seat\u003c\/span\u003e\u003c\/p\u003e\n\u003c\/div\u003e\n\u003c\/div\u003e\n\u003cdiv class=\"clearfix spec-row\"\u003e\n\u003cdiv class=\"title-cell left\"\u003e\n\u003cdiv class=\"right\"\u003e\n\u003cp itemprop=\"additionalProperty\" class=\"cell-name tar\"\u003eHandlebars\u003c\/p\u003e\n\u003c\/div\u003e\n\u003c\/div\u003e\n\u003cdiv class=\"cell-description right\"\u003e\n\u003cp class=\"description-title\"\u003e\u003cspan\u003eMulti-Position, Adjustable Handlebars\u003c\/span\u003e\u003c\/p\u003e\n\u003c\/div\u003e\n\u003c\/div\u003e\n\u003cdiv class=\"clearfix spec-row\"\u003e\n\u003cdiv class=\"title-cell left\"\u003e\n\u003cdiv class=\"right\"\u003e\n\u003cp itemprop=\"additionalProperty\" class=\"cell-name tar\"\u003ePedals\u003c\/p\u003e\n\u003c\/div\u003e\n\u003c\/div\u003e\n\u003cdiv class=\"cell-description right\"\u003e\n\u003cp class=\"description-title\"\u003e\u003cspan\u003eToe Cage and Clip-In Pedals\u003c\/span\u003e\u003c\/p\u003e\n\u003c\/div\u003e\n\u003c\/div\u003e\n\u003cdiv class=\"clearfix spec-row\"\u003e\n\u003cdiv class=\"title-cell left\"\u003e\n\u003cdiv class=\"right\"\u003e\n\u003cp itemprop=\"additionalProperty\" class=\"cell-name tar\"\u003eFlywheel\u003c\/p\u003e\n\u003c\/div\u003e\n\u003c\/div\u003e\n\u003cdiv class=\"cell-description right\"\u003e\n\u003cp class=\"description-title\"\u003e\u003cspan\u003eInertia-Enhanced Flywheel\u003c\/span\u003e\u003c\/p\u003e\n\u003c\/div\u003e\n\u003c\/div\u003e\n\u003c\/div\u003e\n\u003cdiv id=\"comfort-specs\" class=\"spec-series\"\u003e\n\u003ch3\u003eComfort\u003c\/h3\u003e\n\u003cdiv class=\"spec-vertical-line clearfix\"\u003eCoolAire™ Fan\u003c\/div\u003e\n\u003cdiv class=\"spec-vertical-line clearfix\"\u003e\u003c\/div\u003e\n\u003cdiv class=\"clearfix spec-row\"\u003e\n\u003cdiv class=\"title-cell left\"\u003e\n\u003cdiv class=\"right\"\u003e\n\u003cp itemprop=\"additionalProperty\" class=\"cell-name tar\"\u003eTablet Holder\u003c\/p\u003e\n\u003c\/div\u003e\n\u003c\/div\u003e\n\u003cdiv class=\"cell-description right\"\u003e\n\u003cp class=\"description-title\"\u003e\u003cspan\u003eIntegrated Tablet Holder with DeVice Grip™ Design\u003c\/span\u003e\u003c\/p\u003e\n\u003c\/div\u003e\n\u003c\/div\u003e\n\u003cdiv class=\"clearfix spec-row\"\u003e\n\u003cdiv class=\"title-cell left\"\u003e\n\u003cdiv class=\"right\"\u003e\n\u003cp itemprop=\"additionalProperty\" class=\"cell-name tar\"\u003e\u003cstrong\u003eAudio\u003c\/strong\u003e\u003c\/p\u003e\n\u003c\/div\u003e\n\u003c\/div\u003e\n\u003cdiv class=\"cell-description right\"\u003e\n\u003cp class=\"description-title\"\u003e\u003cspan\u003eAudio Auxiliary Port\u003c\/span\u003e\u003c\/p\u003e\n\u003c\/div\u003e\n\u003c\/div\u003e\n\u003cdiv class=\"clearfix spec-row\"\u003e\n\u003cdiv class=\"cell-description right\"\u003e\n\u003cp class=\"description-title\"\u003e\u003cspan\u003eWater Bottle Holder\u003c\/span\u003e\u003c\/p\u003e\n\u003c\/div\u003e\n\u003c\/div\u003e\n\u003cdiv class=\"clearfix spec-row\"\u003e\n\u003cdiv class=\"title-cell left\"\u003e\n\u003cdiv class=\"right\"\u003e\n\u003cp itemprop=\"additionalProperty\" class=\"cell-name tar\"\u003eTransport Wheels\u003c\/p\u003e\n\u003c\/div\u003e\n\u003c\/div\u003e\n\u003cdiv class=\"cell-description right\"\u003e\n\u003cp class=\"description-title\"\u003e\u003cspan\u003eFront-Mounted Transport Wheels\u003c\/span\u003e\u003c\/p\u003e\n\u003c\/div\u003e\n\u003c\/div\u003e\n\u003cdiv class=\"clearfix spec-row\"\u003e\n\u003cdiv class=\"title-cell left\"\u003e\n\u003cdiv class=\"right\"\u003e\n\u003cp itemprop=\"additionalProperty\" class=\"cell-name tar\"\u003eLeveling Feet\u003c\/p\u003e\n\u003c\/div\u003e\n\u003c\/div\u003e\n\u003cdiv class=\"cell-description right\"\u003e\n\u003cp class=\"description-title\"\u003e\u003cspan\u003eAdjustable Leveling Feet\u003c\/span\u003e\u003c\/p\u003e\n\u003c\/div\u003e\n\u003c\/div\u003e\n\u003c\/div\u003e\n\u003cdiv id=\"additional-specs\" class=\"spec-series\"\u003e\n\u003ch3\u003eAdditional\u003c\/h3\u003e\n\u003cdiv class=\"spec-vertical-line clearfix\"\u003e\u003c\/div\u003e\n\u003cdiv class=\"clearfix spec-row\"\u003e\n\u003cdiv class=\"title-cell left\"\u003e\n\u003cdiv class=\"right\"\u003e\n\u003cp itemprop=\"additionalProperty\" class=\"cell-name tar\"\u003eUpper-Body\u003c\/p\u003e\n\u003c\/div\u003e\n\u003c\/div\u003e\n\u003cdiv class=\"cell-description right\"\u003e\n\u003cp class=\"description-title\"\u003e\u003cspan\u003eDual 3 Lb. Dumbbells\u003c\/span\u003e\u003c\/p\u003e\n\u003c\/div\u003e\n\u003c\/div\u003e\n\u003cdiv class=\"clearfix spec-row\"\u003e\n\u003cdiv class=\"title-cell left\"\u003e\n\u003cdiv class=\"right\"\u003e\n\u003cp itemprop=\"additionalProperty\" class=\"cell-name tar\"\u003eWeight Capacity\u003c\/p\u003e\n\u003c\/div\u003e\n\u003c\/div\u003e\n\u003cdiv class=\"cell-description right\"\u003e\n\u003cp class=\"description-title\"\u003e\u003cspan\u003e350 Lb. Weight Capacity\u003c\/span\u003e\u003c\/p\u003e\n\u003c\/div\u003e\n\u003c\/div\u003e\n\u003cdiv class=\"clearfix spec-row\"\u003e\n\u003cdiv class=\"title-cell left\"\u003e\n\u003cdiv class=\"right\"\u003e\n\u003cp itemprop=\"additionalProperty\" class=\"cell-name tar\"\u003eWarranty\u003c\/p\u003e\n\u003c\/div\u003e\n\u003c\/div\u003e\n\u003cdiv class=\"cell-description right\"\u003e\n\u003cp class=\"description-title\"\u003e\u003cspan\u003eLifetime Frame, 3-Year Parts, 1-Year Labor Warranty\u003c\/span\u003e\u003c\/p\u003e\n\u003c\/div\u003e\n\u003c\/div\u003e\n\u003cdiv class=\"clearfix spec-row\"\u003e\n\u003cdiv class=\"title-cell left\"\u003e\n\u003cdiv class=\"right\"\u003e\n\u003cp itemprop=\"additionalProperty\" class=\"cell-name tar\"\u003eFootprint\u003c\/p\u003e\n\u003c\/div\u003e\n\u003c\/div\u003e\n\u003cdiv class=\"cell-description right\"\u003e\n\u003cp class=\"description-title\"\u003e\u003cspan\u003e25" Width x 64.75" Depth x 59" Height\u003c\/span\u003e\u003c\/p\u003e\n\u003c\/div\u003e\n\u003c\/div\u003e\n\u003c\/div\u003e\n\u003cp\u003e\u003cbr\u003eWhy buy from us?\u003cbr\u003ehttps:\/\/www.fitnessequipmentbroker.com\/pages\/about-us\u003c\/p\u003e\n\u003ctable\u003e\n\u003ctbody\u003e\n\u003ctr\u003e\n\u003ctd\u003eUphill or Downhill, Let the Road Decid\u003c\/td\u003e\n\u003c\/tr\u003e\n\u003c\/tbody\u003e\n\u003c\/table\u003e"}
ProForm Tour De France Studio Bike Pro
ProForm Tour De France Studio Bike Pro
A Highly Effective, Low Impact Workout
Get fit on your own time with an indoor cycle that pushes you to be your best. Change gears and feel the natural resistance of the world's hills and valleys from inside your home.
Expert Personal Trainers in Your Living Room
Engage in a whole new workout experience as certified personal trainers take your exercise all around the world. iFit® Coach gives you continued motivation with unlimited access to streaming global and studio workouts, all led by a coach.
Interactive Training Sessions
iFit personal trainers move your transformation forward by interacting with and controlling your smart equipment.
Streaming Global and Studio Class Workouts
See the world while you work out or push through a studio class, all while being led by a personal trainer in your home.
Personalized Nutrition
Get a personalized meal plan automatically created for your fitness goals and follow along with easy video recipes.
Check your progress as every workout is automatically recorded and even used to influence future exercises and nutrition plans
Feel the hills throughout your ride. The Studio Bike Pro features a unique 20% incline to 20% decline capability that gives you the experience of a realistic, real-road feeling. As you cycle with iFit® Coach, your trainer automatically inclines or declines your bike to match the grade of the workout. Make your training more intense and burn more calories by cycling at an incline.
Silence Never Sounded So Good
Experience a smooth, frictionless, and silent ride with our patented SMR™ Silent Magnetic Resistance, which allows you to adjust your training intensity without interrupting your workout or anyone around you.
Technology
Expand All
10" Smart HD Touchscreen Display
24 Tour de France Workouts
EKG Bluetooth® Compatible Heart Rate Receiver*
Complete Customizability
Put yourself into position for the best chance at success. The Studio Bike Pro is both adjustable and modifiable for a perfectly fitted training experience. Make this bike your very own with total customizability.
Handlebars
10.5" Adjustable Stack (Vertical)
3.5" Adjustable Reach (Horizontal)
Rotation for Comfortable Upright or Aggressive Drop Position
Saddle
13" Adjustable Stack (Vertical)
4" Adjustable Reach (Horizontal)
Interchangeable
Pedals
Optional Toe Cages
Optional Clip-Ins
Interchangeable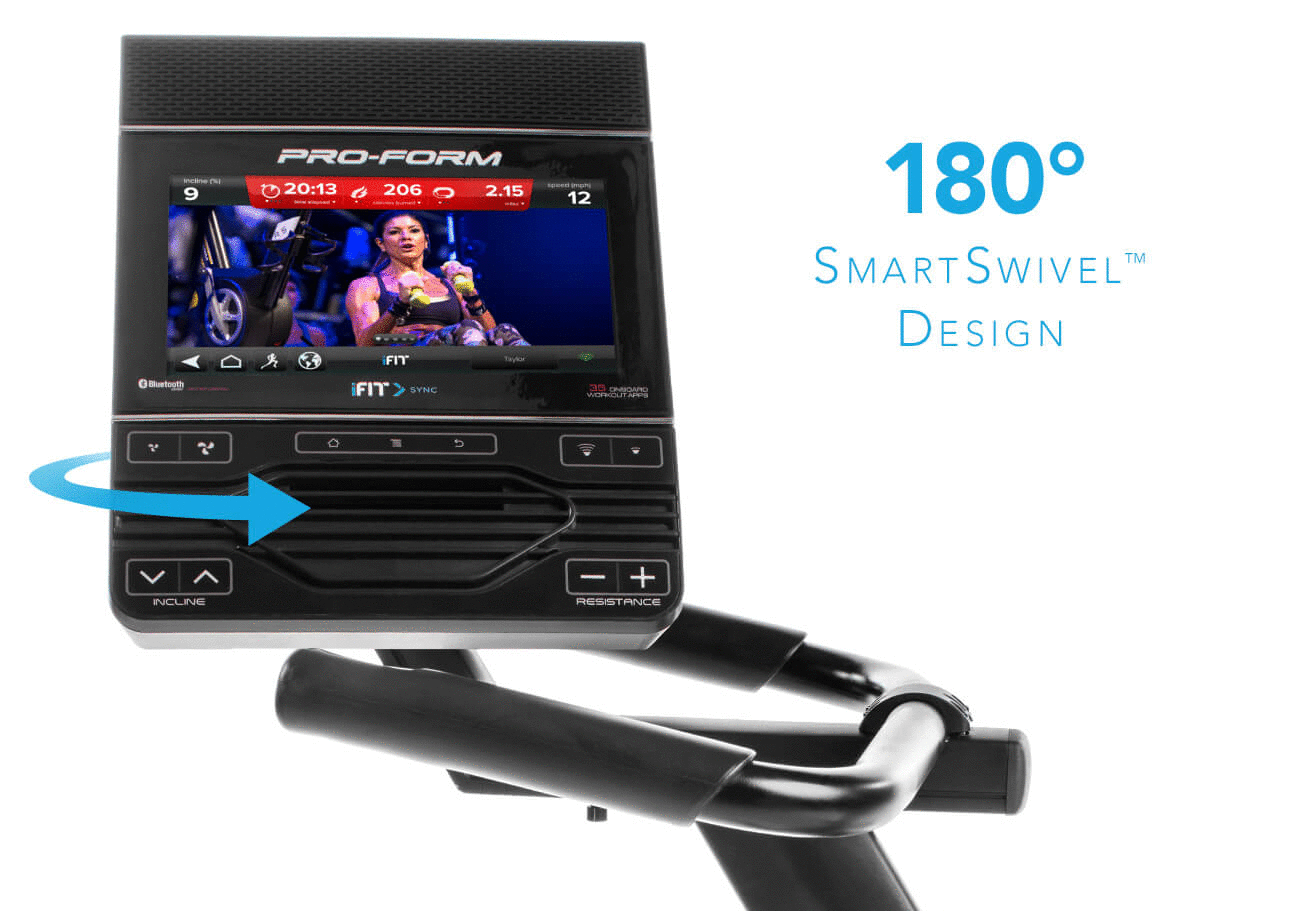 A Pivotal Moment For Your Fitness
Stay entertained when you want to get off the bike to do some cross-training. The Studio Bike Pro features a Pivot Screen with SmartSwivel™ Design so you can turn the screen 180°, as well as tilt up or down, so you can continue watching your entertainment, even when you're training off the saddle.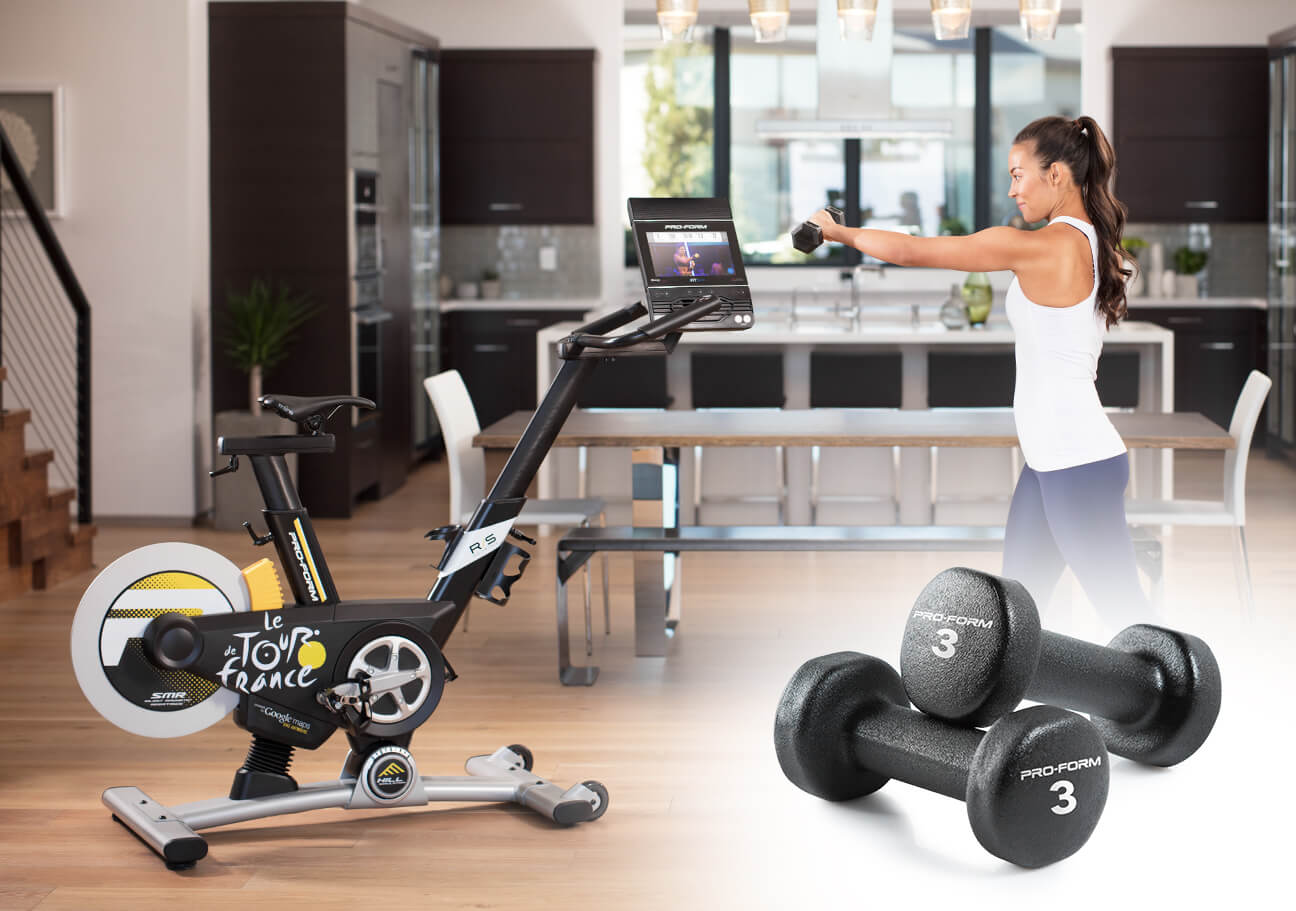 Throw in Some Upper-Body Strength
Prepare yourself for a full-body training session. This bike isn't only about toning your legs. Two 3-pound dumbbells are included with the Studio Bike Pro to give you the opportunity to bring upper-body exercises to your workout. When you're finished, put them back into the conveniently attached dumbbell holders.
Upright Frame with Commercial-Gauge Solid Steel Construction
26 Digital Resistance Levels
20% Incline and 20% Decline Capability
Multi-Position, Adjustable Handlebars
Toe Cage and Clip-In Pedals
Inertia-Enhanced Flywheel
Comfort
CoolAire™ Fan
Integrated Tablet Holder with DeVice Grip™ Design
Front-Mounted Transport Wheels
Additional
Lifetime Frame, 3-Year Parts, 1-Year Labor Warranty
25" Width x 64.75" Depth x 59" Height

Why buy from us?
https://www.fitnessequipmentbroker.com/pages/about-us
Uphill or Downhill, Let the Road Decid